Dog Potty Patch Replacement Grass
Pet Dog Potty Patch Replacement Grass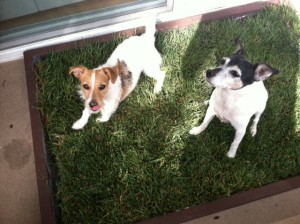 Potty Patch Replacement Grass: What do you get?
Every dog potty patch replacement grass package has everything you need. Inside every delivery we provide you with the following:
Farm fresh grass roll that has been harvested the same day it is delivered.
Disposable gloves for changing out the old grass with the new grass.
Plastic bags for disposal of old grass rolls.
We also provide full service delivery for customers that want us to do it all. One of our Doggy and the City staff members will change out the old grass and lay out the new potty patch replacement grass. Please call for more information 818-282-3449.
Potty Patch Replacement Grass: Real or Synthetic?
We only use real farm fresh natural grass for our dog potty patch grass. There are many reasons that we use fresh natural grass from local farms
From the farm to your door the same day
No Pesticides.
Dog's instinctually use natural grass.
Absorbs urine naturally, eliminating odors.
Doggy and the City works with the best local farms in the Southern California area to provide our customers with the best product.
What size Potty Patch replacement grass is good for your dog?
Our small dog potty patch is great for small breeds under 12 pounds. If you have a larger dog or multiple dogs you should use our large dog potty patch. It is important to choose the right size or else your dog will not have enough room to move around on it.