Dog Grass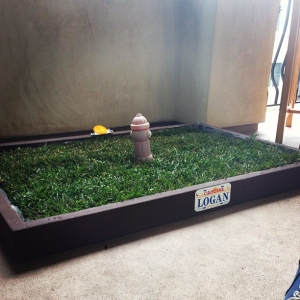 Dog Grass and Potty Training
Dog Grass is the ultimate potty training tool that you can use to train your puppy in no time at all. Your dog or new puppy is instinctively drawn to using natural grass. When potty training a puppy, dog grass can help you utilize this innate urge to help you turn potty training into a simple and easy process. Using potty pads and synthetic grass make your job much harder when potty training your dog, these are very foreign to your dog and won't naturally attract him / her.
Potty training a puppy or getting your older dog accustomed to our real grass dog potty solution is easy. Because you are working with natural grass you already have your dog's instinct on your side. Now all you need to do is create a consistent schedule for them and they will take to it in a snap. The best method we have seen over the last 7 years is "morning training". First thing in the morning, when they have the most urgency to go, take your dog directly to their dog grass potty. Use a prompt word or gesture that your dog associates with a pee command and then make sure you give them a treat and verbally praise them when they go. Be sure to do this same thing each morning for the first 2 weeks and they will know. It is literally that easy, some dogs even start peeing on the dog grass right after we deliver it.
Our Grass 
Our dog grass is meant to endure the wear and tear of your dog's potty needs. We grow our dog grass in Southern California and it gets shipped to our customers every 7 – 14 days based on their needs. On delivery days we make sure that the grass is cut fresh that morning and delivered the same day. This ensures that the dog grass used by our customers is fresh and will last at least 7 – 14 days until their next delivery.
The grass we use is all natural and very absorbent, much more natural and safe for your dogs and home than pee pads and the chemicals needed to clean them up. Our natural grass comes with about 3/4 inch of soil attached to it as well as the actual 1 in. – 2 in. grass blades. The combination of the soil and the blades makes for reliable absorption that doesn't leave puddles of mess that your dog might step in.
Frequency of Delivery
The overwhelming majority of our customers receive fresh new grass every 14 days. There are some cases that people prefer to have their dog grass delivered every 7 days, these include:
You have an older dog that needs their dog grass as their primary place of urination

You have a dog that is sick and taking medication that makes them drink large amount of water and urinate more
You have a very busy schedule and the dog grass is the primary area used by your dog for peeing
Visit here for more information on our grass service or dog potty boxes.