Los Angeles Dog Potty Service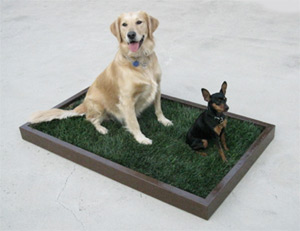 Los Angeles Dog Potty Service
Doggy and the City not only provides clients with the perfect size indoor dog potty we also cover the entire city with our Los Angeles Dog Potty service. We currently have over 400 clients throughout the Los Angeles area and some of Orange County. Dog potty service deliveries are easy, reliable, and convenient.
Our Los Angeles Dog Potty service areas include the Westside, Downtown Los Angeles, San Fernando Valley, Pasadena / Glendale, South Bay, and of course the Marina areas.  Our extensive Los Angeles Dog Potty service routes allow us to provide our customers with weekly (every 7 days) and bi-weekly (every 14 days) delivery.
Standard Dog Potty Service
With our standard dog potty service we deliver a package with everything you need to your door. There is no need for you to be home for your delivery and we work with you to make sure our drivers have the proper information to get into your building and leave it at your door.
Full Dog Potty Service
We also provide full service delivery for people that desire it. With our full service dog potty delivery service  we will install new grass in your indoor dog potty and dispose of the old grass for you. We work with our clients to provide them with a delivery time that is consistent so that they do not have to take time out of their schedule to wait around.
Dog Potty service in the Los Angeles area is easy to start. We can usually get you started in less than 48 hours from the time that your order. If you have a move-in date that you would like us to accommodate please give us 72 hour notice and we will be happy to take care of you.
More Dog Potty Service Info
For more information on Los Angeles dog potty grass delivery areas please click here
For more information on our dog potty grass delivery pricing in the Los Angeles area click here