Grass Dog Potty for large dogs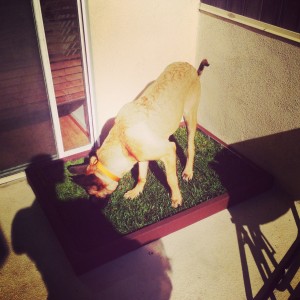 Your grass dog potty for large dogs in Los Angeles
Living in Los Angeles with a large dog can be difficult at times. Apartment living without a yard makes it tough when it comes time to do those pee walks several times a day. At Doggy and the City we provide dog owner with a grass dog potty for large dogs that really works. Fresh natural grass in a large space is great when a large dog needs to pee.
Most grass dog potty products are just too small for a large dog for two reasons:
Not enough space – Dogs need room to move around before they do their thing. Most grass dog potty products are just way too small or come in a small cardboard style ( pizza box ) type of packaging that just doesn't hold up.
Not enough absorption – We use real grass and our grass dog potty for large dogs has plenty of it to absorb the urine of a large dog. When you don't have enough grass you will end up with unwanted urine odor. Not a problem with our large grass dog potty.
For the last 10 years we have been working with dog owners that have large dogs in apartments and condos all over Los Angeles and Orange County. Our product for large dogs was designed over time and with the feedback of dog owners in order to create the perfect solution.
The size of the dog potty box, the container that the grass goes into, is 2 ft 9 in x 4 ft 3 in. It is made of a solid wood frame with an inner plastic to protect the wood from moisture. The inner plastic lining is adhered to the wood frame and can be easily cleaned on a regular basis from minor pieces of soil that may have fallen to the bottom.
We deliver fresh grass to the door of our customers every 7 or 14 days ( weekly or bi-weekly ) in a package with plastic gloves and a throw a way bag for the old grass. If you would like full service we also provide that as well. Our staff will come to your home, remove the old grass, lay down the new grass and dispose of everything for you. It's really that easy.