Indoor Dog Potty FAQ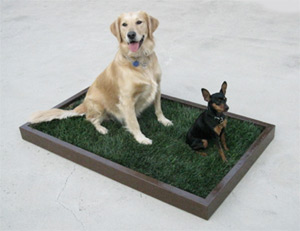 How do I know if my dog will use the potty box?
Dogs are instinctively drawn to natural grass and as a result, training your dog to use our potty box is much easier than you might think.
Can't I buy grass for my Potty Box and Home Depot?
Many Home Depot locations do not carry grass on a regular basis and if you don't get there early enough (6am – 8 am) all the grass is normally purchased by landscaping 

crews.
Can't I build a Potty Box at Home Depot?
We have priced our potty boxes so affordably that building a potty box at Home Depot will cost you as much as buying our quality constructed potty boxes after you purchase materials, tools, and take the time to build it. We build large numbers of potty boxes and are able to keep costs down through volume manufacturing her in the United States. 
use of your potty box.
Do I have to sign a long-term contract?
No. Our service is on a month-to-month basis. You can cancel at anytime.
Does the potty box come fully assembled?  What about maintenance?
Your potty box arrives fully assembled with no setup required. For maintaining your potty box, we recommend you rinse your potty box once every month.
What are the potty boxes made of? Are they waterproof?
All the potty boxes are made in the USA using 100% natural wood that treated with a water and chip resistant finish that provide a lifetime of use. If for any reason your potty box cracks or breaks while you are a client, we will provide you with a replacement box, free of charge no questions asked. Doggy and the City is dedicated to serving you and your dog!
Can I use my potty box inside and outside my apartment, condo or home?

 
Absolutely! Our potty boxes can be used inside or outside. Just make sure they are protected from the rain!
Do you take my old piece of grass away when you bring my new piece of grass? Can you replace the grass for me?
Our standard service does not include the removal of your old grass. However, with each delivery we supply you with throw-away bags for your old grass and sanitary disposable gloves for handling the grass replacement. We also offer a full service option (additional $12.50 per visit) where our staff removes, replaces and disposes of the grass for you.
How often do I need to water the grass?
We recommend that you water your grass twice a week in order to ensure its freshness.
Is my potty box weather proof?
Yes however, we recommend that you cover your potty box when it rains to ensure that it does not become saturated with water.
How do I keep the potty box sanitary?
As you would in any situation please pickup and remove the poop as soon as you see it in order to ensure your dog's hygiene and health.
If a box cracks or breaks, am I allowed to exchange it for a new box?
If for any reason your potty box is damaged while you are a grass delivery client of ours, we will replace it, no questions asked.
Do you offer weekly sod deliveries?
Weekly grass delivery service is available in all of our delivery areas.
Which is better: Real Grass or Synthetic Grass? 
First and foremost, real grass is the only solution that truly ensures the hygiene of your dog and eliminates urine odor. With synthetic grass your dog is essentially urinating on plastic, which is not absorbed and begins to smell due to the residual urine that sticks to the synthetic grass. Natural grass absorbs the urine and is replaced with each new delivery. Natural grass also duplicates the environment that dogs are used to reducing training time. Lastly, natural grass is organic and is easy on the environment.
How long will the grass last?
Depending on the amount of direct sunlight as well as the number and size of dogs using the area, results vary. We recommend that you replace the grass every two weeks to ensure the health and hygiene of your dog. For large or multiple dogs, we also offer a weekly service option to ensure a clean and healthy environment for your dog.
My dog is 70 pounds. Can Doggy and the City accommodate my needs?
For larger dogs of 40 pounds or more we recommend our large box to ensure that your dog has plenty of room to get situated. We have had dogs that weigh over 110 pounds use the larger box with no problems.