Dog Grass Pad Subscription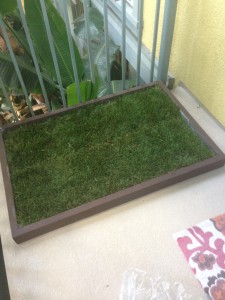 Doggy and the City dog grass pad subscription in Los Angeles
Need a better option? For the last 10 years our  dog grass pad subscription has been serving the needs of dog owners in Los Angeles and Orange County. Instead of messy pee pads and constantly worrying about taking your pup out, you can have fresh grass in a self contained area for your dog to use. With our dog grass pad subscription service, customers receive a free dog potty box to use and new fresh grass delivered for it every 7 or 14 days. Right to their door!
We work with local farms to provide a fresh natural product for our dog grass pad subscription customers. No more worrying about constantly cleaning up messy pee pads or wiping down floors. The dog potty box is a self contained area filled with natural grass that absorbs urine. All you have to do is change our the grass on a weekly or bi-weekly basis depending on how much your dog uses it. It's that easy!
Initially we provide all customers with the use of a free dog potty box for the grass.
After you sign up on our site we begin your delivery service. Each delivery comes with:
Fresh natural grass roll that has been harvested the same morning from the farm.
Disposable gloves for rolling up the old grass and disposing of it .
A bag to put the old grass in before you roll out the new fresh grass.
Our dog grass pad subscription service makes living in an apartment with your dog so much easier. Because we use natural grass, your dog will take to it easily. Training them to use it is easy because they instinctually already pee on grass. The soil and grass blades absorb the urine and all you do is change out the grass on a regular basis.
We have been serving dog owners in Los Angeles and Orange County for 10 years now!