Dog grass delivery for dog potty training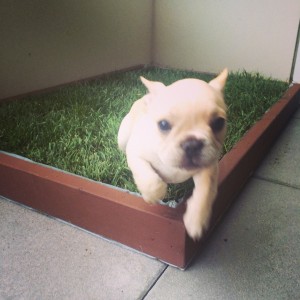 Using dog grass delivery for dog potty training
So you just got a new puppy and you are ready to embark on the rocky journey of dog potty training for your apartment. Well, using using dog grass for dog potty training can really help. We have all been there, the almost hourly trips outside to pee, the cleaning of disgusting plastic pee pads, and the late nights when crate training your new puppy.
Whatever techniques you use along the way, dog grass delivery for dog potty training is an amazing tool that will help you save time, energy, and your carpet or floors. It will also teach your new puppy that going on grass is the right thing to do instead of using your couch, bathmats, pillows, and so many other things in the apartment.
At Doggy and the City we provide you with a self contained dog potty box that looks great and creates a defined area in which you can teach your dog to use. The dog potty box is free while you have the dog grass delivery service with us.
For a quick overview of the simple process needed to use dog grass delivery for dog potty training, see our article on grass dog potty training. This is a small article with the basic process that we have found works best with new puppies. Potty training a dog can be hard but if you stay disciplined with the steps mentioned in our blog you will have them trained in no time.
Our dog grass delivery provides fresh training grass on a weekly or bi-weekly basis depending on what your needs are. Because puppies need to go more often you may need the flexibility of deliveries every week to make sure that the area is clean and hygienic for your dog. Your delivery of fresh grass comes directly from the farm in the morning after it is harvested and straight to your door the same day. In the package is a fresh roll of natural grass, disposable gloves to change out the grass, and a throw away bag for the old grass. Changing it out takes about 2 minutes. It's that easy!